The Lokshikshak Award
Citation
Mrs. Jayashree Athavale - Talwalkar
You are the illustrious daughter of Rev. Mrs. Nirmala Tai & epoch making genius & superman Rev. Pandurang Shastri Athavale; who has brought about emotional & spiritual revolution in the present era through the medium of Swadhyaya & has simultaneously removed the lack of self identity from the lives of millions of people by awakening splendor & gratitude inherent in them.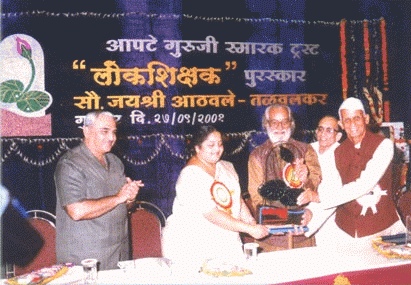 Right from childhood your mind was influenced by lustrous thought & conduct. The qualities of righteousness & piety, which have descended in your family from generation to generation are ingrained in you. Due to good upbringing this has resulted in intimate relation between you & Swadhyaya. With the passage of time, naturally you have become a dynamic & active Swadhyayee. Today with the backing & support of all theSwadhyayees you are successfully shouldering the responsibility of Swadhyaya family which has reached every nook & corner of the world. Significantly, in the divine work of yours, you are getting wholehearted support and encouragement of your husband Mr. Shrinivas Talwalkar.
While actively engaged in Swadhyay work day & night for the last 25 years you have established your independent imprint in the field of education also. Your potential & capacity for rational & logical thinking is very vast. Therefore Rev. Pandurang Shastri Athavale had imparted to you an altogether different type of education in the beginning. Later you undertook a deep study of comparative Philosophy, Logic & Religion. You secured a degree in Philosophy from the University of Bombay. Elphinstone college from where you completed your post graduate education honored you by appointing you as lecturer. At the tender age of 19, you started giving significant discourses on Bhagwad Gita titled 'Gitatryaha', till date lacs of educated, uneducated & highly educated men & women have listened to these discourses delivered by you in Gujarati, Hindi & Marathi languages. You have delivered these discourses in the urban & rural areas of India as also in foreign Countries. You have also delivered discourses on different subjects in the workshops conducted for active Swadhyayees.
While listening to your talks the listeners become introvert. Experience shows that they become spellbound also. Explaining difficult & profound subjects in simple, straight forward language is your uniqueness. Simultaneously you are adept in planning, organizing & unifying the activities of the Swadhyaya family. You have been incessantly taking Swadhyaya thought to every corner of various states of India, while you are shouldering & discharging your family responsibilities. You have competently carried Swadhyaya thought to many parts of the world as well. You have propagated through many international conferences the great, invaluable, cultural treasures of ancient India.
In Ohio State University of America in 1991, at Columbus you have presented your views on Adi. Shankaracharya's 'Advaita Philosophy'. You have also participated in the city of Montreal in Canada in 1992. You have represented India in the World Religious Conference in 1993, held in Chicago in which eminent personalities like Dalai Lama, Mr. Hansking were present. Your contribution in the conference on 'Hunger & Poverty' held in Brussels in 1995 was appreciated & lauded.
While actively involving yourself in Swadhyaya activities you are participating and representing India in various conferences held at international level. You have been emphasizing that philosophy can be reached unto the last man at grass root level and transformation can be effected in him. Perceiving the empowerment brought about in the society through Swadhyaya work, thinkers of the world are hopefully looking to Rev. Pandurang Shastri Athavale as also to you. This really is an admirable & commendable fact.
The power of lacs of youth is getting activated through your affectionate approach. Swadhyay work is your life's mission & you are devoting your full time to it. Your unique greatness lies in keeping yourself away from publicity, honors & self aggrandizement.
By the blessings of Rev. Pandurang Shastri & Rev. Mrs Nirmala Tai, you are also doing like them, the invaluable work of awakening the masses & educating them untiringly. Therefore the first 'Lok Shikshak Award' instituted in the memory of venerable Apte Guruji is being bestowed on you.